COUNCIL NOTEBOOK: Arcade bylaws updated for new times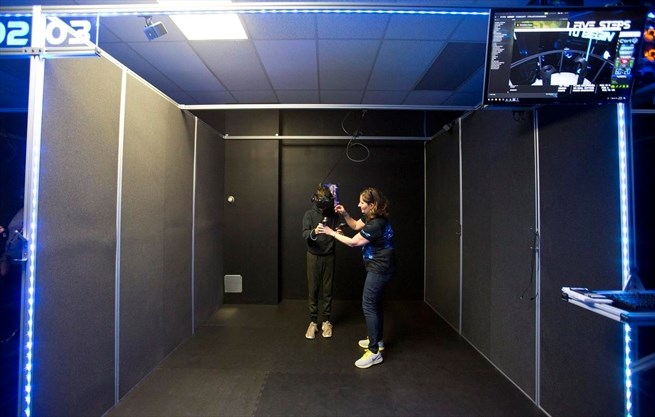 Source: The St. Catharines Standard
Author: Karena Walter
City hall happenings this week…
Arcade bylaws updated for new times
St. Catharines is changing its "archaic" bylaws limiting amusement arcade hours.
City council unanimously voted Monday to remove restrictions on the hours arcades can operate by amending the business licencing by-law.
Under the bylaw, arcades couldn't open before 1 p.m. Monday to Friday and had to close at 11 p.m. on school nights. They could stay open until midnight on Fridays and run 10 a.m. to midnight on Saturdays but couldn't open on Sundays until noon.
The change was suggested by St. George's Coun. Mike Britton after he attended the opening of Ctrl V, a virtual reality entertainment centre on Hartzel Road, a few months ago.
He told council at its June 25 meeting that the operators were concerned the licence restrictions on hours of operation were a bit archaic.
Britton said the limits were introduced at a time when arcades were mostly for kids and the city wanted to keep them in school. Today, an arcade like Ctrl V attracts adults too.
"This is a remnant from a bylaw written from a while ago."
Charmaine Essex, owner of Ctrl V St. Catharines, was happy to hear about the change Friday.
"That's great news," Essex said. "We're not little kids running around any more. It's adults coming in with their kids or 24-35 year olds doing gaming here. Five year olds to 105 can play this stuff."
She said the biggest concern were the limits on opening hours.
Other Ctrl V franchises open at 10 a.m. on Sundays, for instance, but she said the St. Catharines location hasn't been allowed to open before noon. That's been disappointing for people who want to hold birthday parties earlier. It's also meant going to the city to ask for special permission to be open for other functions, such as the company's own 24-hour gaming event and children's hospital fundraiser coming up Nov. 3 and 4.
The business will now be able to use feedback to adjust its hours.
"We'll be able to find out when our customers want us to be open, so that will help."
Church to become apartments
A plan to transform a former Merritton church into a condominium apartment building has been given council's blessing.
Councillors voted unanimously to approve the draft plan of standard condominium for 405 Merritt St. Monday.
The former St. James Anglican Church at the corner of Oakdale Avenue is slated to have 15 apartment units with common elements and parking.
The developer has said the exterior of the church will not significantly change.
The church closed in January 2017 due to a dwindling congregation.
Staircase replacement in the works
A public staircase that connects residents in Port Dalhousie to Lakeside Park could be replaced with a bigger, better model, but the cost is not yet known.
The staircase at the end of Dalhousie Avenue has been out of commission since construction began for the nearby Beaches at Port condo building.
Port Dalhousie Coun. Bruce Williamson asked Monday when it will be reinstated so an important public access point to Lakeside Park will be back in business. He said the stairs have been closed for half of council's term.
Director of transportation and environmental services Dan Dillon said the city is in discussions with the condo developer about a possible cost sharing agreement to replace the stairs and widen them.
Dillon said once the full costs are known, city staff will bring a recommendation to council.
Port Dalhousie Coun. Carlos Garcia said the stairs should be replaced as soon as possible but disagreed the city should pay anything if they were blocked or wrecked because of the project.
Planning and building services director Jim Riddell said he'll get a report to council about what happened to the stairs, but added the new ones would be a vast improvement over what's there and a significant step forward.
The issue came up during a planning act public meeting for The Beaches at Port's application for a draft plan of standard condominium relating to ownership. The 13-unit apartment building and one detached unit previously received approvals. The ownership issue will come back to council on Sept. 24.
Council hears crosswalk needed for pedestrian safety
St. Catharines will ask Niagara Region if there are any opportunities for installing a pedestrian crossing on Geneva Street in the downtown.
The request is being prompted by the concerns of Warehouse Concert Hall owner Erik Dickson who said he witnesses people crossing four lanes of fast-moving traffic every day.
In a July letter to St. Patrick's Coun. Mat Siscoe included in council packages Monday, Dickson wrote he's in a unique position to see the type of pedestrian traffic in the area because of his location at the corner of Court and Geneva, in the former Wally Wemnant building,
He said the pedestrians are uniquely vulnerable, often consisting of clients of Start Me Up Niagara and Community Care, as well as many senior citizens on foot, in wheelchairs and motorized scooters who cross at dangerous times and expect vehicles to yield.
"I would hate for an accident to force this issue, and would rather help see it dealt with sooner," he wrote.
Council directed staff to follow up with Niagara Region regarding the concerns and look into opportunities for a crosswalk at the location.