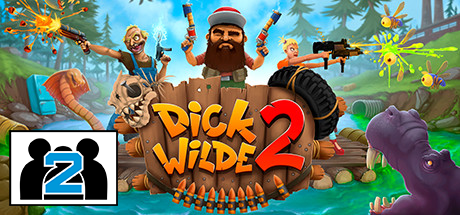 A toxic outbreak has been unleashed, mutating the local wildlife! Pair up with your friends and take on the deadly ooze and its disgusting dwellers. Clear the swamplands with super-powered weapons – from physics-defying beam guns to homemade revolvers. Hold on tight, this ride's about to get bumpy!
THE TRAILER – DICK WILDE 2
THE SCREENSHOTS – DICK WILDE 2
THE PUBLISHER – PLAYSTACK PlayStack was founded on the belief that even the greatest developers need support in order to create their best work.
PlayStack can offer that support in three key ways; end-to-end funding, publishing expertise, and tech to build a strong gamer audience and community. Our developers play to their strengths as creative leaders. They have the laser focus needed to drive development and avoid spending countless hours pitching for investment or trying to become an UA expert, and entrust our talented team to tailor the campaign to the audience and demonstrate daily how publishing can be reinvented.
THE DEVELOPER – BOLVERK GAMES
Bolvërk Games makes virtual reality games. And they do it exceptionally well. Their games are second to none, challenging, engaging, beautiful, immersive and extremely exciting. Don't just take their word for it, though — try out Dick Wilde, and you'll see that they are right.