Hit Ctrl V for a VR arcade experience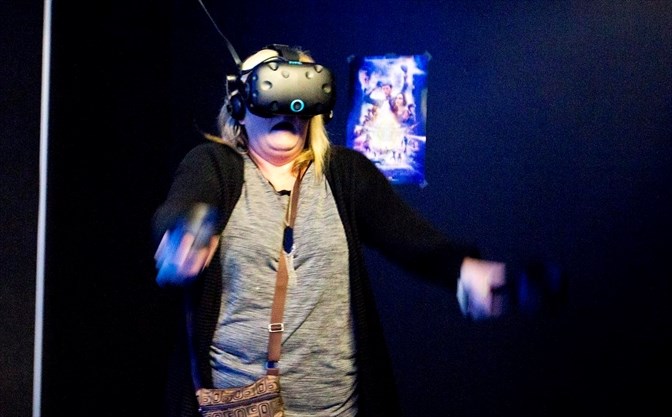 Source: StCatharinesStandard
Author: Julie Jocsak
Hanya Nagy screams with a mix of delight and surprise from the 10×10 booth next to her son who navigates a virtual world silently.
"That's quite he workout. That's brilliant, that's crazy good!" exclaims Nagy as she steps out of the booth following her demo. "I have no words actually, that was just amazing. It was definitely virtual."
Nagy's son Tyler echoes her sentiments.
"It was awesome, it was so cool. It felt like I was in it," said Tyler Goforth.
Ctrl V is a virtual reality gaming centre — it's billed as Canada's first VR arcade — where people can pay $25 an hour to immerse themselves in a virtual reality world. People can play alone or with someone else. the business has games for both single and multiplayer. Ctrl V also offers party packages and has a back room which can be rented out for groups and parties.
"We have 20 games right now and every month we get five new ones," said Charmaine Essex, who co-owns the Hartzel Road business with Wally Reintaler.
"It's hard to talk about virtual reality because it's a 360(-degree), 3D effect," said Essex. "When they come here, they are put in their own 10×10 booth, one person per booth. They have their own HTC Vibe headset.
"Until you experience it, you don't have a clue, so it is a matter of getting out and trying it."
The most popular game right now is Ready Player 1 but other titles available include Longbow, Xortex, Vesper Peak, The Lab, Universe Sandbox, Job Simulator: The 2050 Archives, Arizona Sunshine, Sprint Vector, Cowboys and Aliens, and more. A full list is available on Ctrl V's website.
The business opened on St. Patrick's Day, but its official grand opening was Saturday.
"We have had a great response from people who have been coming in and coming back multiple times already and bringing more friends in, so that has been awesome," said Essex.
Essex recommended booking a visit ahead of time at CtrlV.ca to ensure there is space available for when you arrive.